Best Consultant to the Hospitality Industry in India - Salem
Friday, 7 February 2020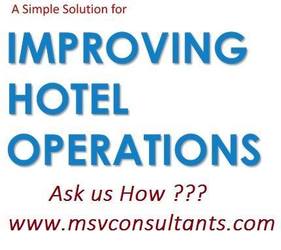 Contacts

MSV Hospitality Consultants

9865256883
Item description
Thinking of starting your future in the field of hotel management services think of MSV Consultant. We take pride in calling ourselves the best hospitality consultant in India as we create and generate revenues for a better return on investment.

We help organizations in development and improvement in their existing plans. As a result of proven techniques, we optimize the financial results of your organization. Our key actions are the evaluation of the competitors, benchmarking of annual rate, adopting new market segments to name a few.

We understand the location, project requirements alongside the architects and designs that are required to result in a successful outcome. Looking for restaurant consultants in India MSV is your go-to place as we are experienced and have with us a developed comprehensive dashboard that gives out various information in no minutes.